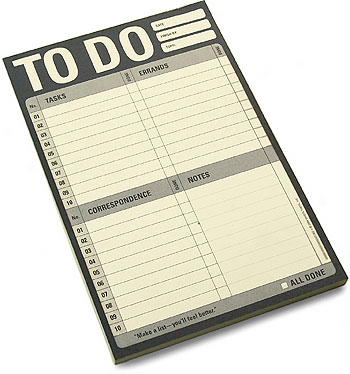 I'm sure I'm not the only person who lays in bed and night before going to sleep making mental to-do lists. Well recently all of my pre-sleep lists have been wedding related. I finally found enough motivation to make a 'hard-copy' of my list and it was overwhelming to say the least. I couldn't believe how much I have to do still. Anyone else feeling this way?
And since I'm have to be extremely ogranized (all or nothing I guess) I even sorted everything by deadlines. Since I've made my list I've been able to cross of a grand total of 2 things! WHOO!! Anyway, here it is.
P.S. Sorry about the double bullets - not sure why that happened.



Should Already Have Done
·

Add e-ring and wedding band to homeowners insurance
·

Sign videographer contract/pay deposit

·

Complete wedding registry

·

Give registry information to MOH for bridal shower
·

Decide on bridesmaids dresses
Finish by March (6 months before wedding)
·

Book honeymoon/flights

·

Order flowers

·

Finalize menu

·

Select wedding cake design, flavor, filling, etc.

·

Order wedding cake

·

Order cupcakes
Finish by April (5 months before wedding)
·

Book hotel for wedding night

·

Order RSVP cards

·

Find outer envelopes

·

Decide on seals for invitations

·

Find belly bands etc. for invitations

·

Design/Order Thank You cards

·

Design/Order photo upload cards or signs

·

Order photo guestbook
Finish by May (4 months before wedding)
·

Get undergarments (bra, slip, etc.)

·

Get accessories (veil, shoes, hairpiece, jewelry, garter, etc.)

·

Buy cupcake boxes

·

Buy cake topper

·

Buy Thank you sign for pictures

·

Get supplies for out of town guest bags

·

Get Troy pamphlets for out of town guest bags

·

Decide on tuxedos/what store

·

Gifts for bridesmaids

·

Gifts for groomsmen

·

Gifts for parents

·

Decide on seamstress/make appointment

·

Address invitations

·

Decide on/get chair sashes

·

Decide on/get ceremony décor

·

Get supplies for bathroom basket

·

Get cake knife/server set

·

Get table numbers decor

·

Design/Order Seating cards/Escort cards

·

Design/Order I Spy cards

·

Decide on signature drinks/get a sign for them
Finish by July (2 months before wedding)
·

Finalize ceremony

·

Get wine box/contents

·

Send out Invitations (for wedding and rehearsal dinner)

·

Update wedding website (include printable packet for guests)

·

Finalize music choices

·

Decide on reception events/order

·

Have dress altered

·

Check in with all venders to confirm orders

·

Confirm that all bridesmaids/groomsmen ordered their attire

·

Decide on accessories for bridesmaids (shoes, jewelry, etc.)

·

Find rehearsal dinner dress

·

Find someone with an extra camcorder to use for reception
Finish by August (1 month before wedding)
·

Make emergency kit for day of

·

Book manicure/pedicure for day before wedding

·

Design/Order Programs and Menus

·

Apply for marriage license

·

Have final dress fitting